269 & 271 Green Lanes
The AmCap RE Greater London Fund has recently submitted its planning proposal in respect of 269 & 271 Green Lanes in Palmers Green.
The properties were purchased by the fund in June 2021 and are currently comprised of two small office buildings at the front and a 700 sq m parking area at the rear. The development proposal involves the conversion of the office units to 6 flats and the erection of a new 3-storey block of 6 flats along with associated landscaping at the rear. All units in the new block will have private outdoor space.
The properties were purchased for £1.8m, the projected cost of development is £1.5m and the estimated GDV is £4.5m. The transaction represents a good value-add investment for the fund in line with the shift from office to better living space.
Front View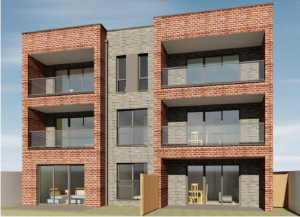 Rear View